Storytelling Festival is Coming Up
It is that time of year again, when 5 outstanding professional story tellers come to Port Angeles to light up your mind and fill your heart.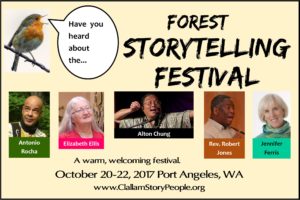 There is a variety of performances and workshops to choose from, Friday through Sunday, October 20th – 22nd at the Peninsula College. Come for a brief sample, or the whole shooting match. Sunday morning's free session of Inspirational Stories is always a high point of the weekend. More details on our webpages.
Tickets for other story sessions are available: 1) online, 2) at Odyssey Books in Port Angeles, and 3) at the door.