November Featured Teller is Brianna Barrett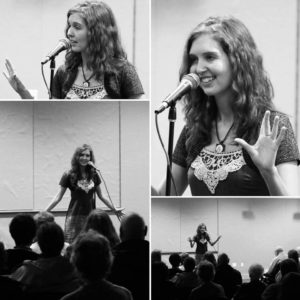 Brianna Barrett from Portland will be the featured teller at the November story swap. Brianna is a writer, performer, cancer survivor, Portland native and punch-cardcarrying regular at every locally owned teahouse in town. She is a playwright, and storytelling and writing workshop leader. She says: "I'm also a good friend and a pretty okay person to hang out with. I have a houseplant named Susan Junior I've kept alive for three years, so that's got to count for something." Don't miss this performance!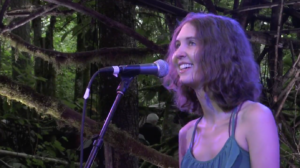 Brianna was named "Portland's Best Storyteller" in Willamette Week's annual Best of Portland awards in both 2016 and 2017, she performs regularly in the Portland area. She first began storytelling in 2014 after a bout with cancer put her TV career on hold — she was asked to speak at a charity event for young adult cancer survivors, caught the storytelling bug, and has been telling stories on stage ever since. (You can catch a recent interview on KGW8).
She is now a member of LineStorm Playwrights, a company-in-residence at Artist Repertory Theatre, and serves on the board of the Portland Area Theater Alliance. Her theatrical work has been seen at Artists' Rep, the Fertile Ground Festival, HART Theatre, Willamette University, Lewis and Clark College, and at the Northwest Narrative Medicine Conference. She also coaches first-time storytellers for the HHH Foundation's annual Notes of Hope storytelling concert benefiting young adults with cancer and she facilitates a weekly writing workshop for cancer survivors at OHSU.
Story Swap Details
For location and time, check out our Story Swap page.